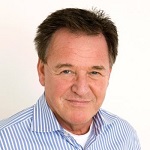 HÅKAN SVENNERSTÅL
Member of the Board
CEO and President at Svenerstal and Partners AB.
Håkan Svennerstål has a Ph.D in Learning Leadership and Economics from the University of Stockholm.
Doctor Svennerstål's area of expertise is learning leadership and leadership assessments.
Svennerstål and Partners have built a global network of experts spanning a wide range of competencies. This structure allows a high degree of customization to every project. Project teams are tailed-made in order to meet the unique requirements of each client. An advisory board together with Arthur Hunt Group is under development.
Dr. Håkan Svennerstål founded Svennerstål & Partners in 1974. In 1990 the Company experienced significant growth and consisted of three subsidiaries: Strategy, Training and Search. In 1996 Svennerstål & Partners was sold to Cap Gemini – Gemini Consulting.
Håkan Svennerstål became Senior Vice President at Cap Gemini/Ernst & Young with global responsibility for Leadership. In 2000 he became President at A. T. Kearney Executive Search Sweden and Finland with global responsibility for Board and Leadership Assessments. Håkan Svennerstål restarted Svennerstål & Partners in 2004.