Simpson & Associates
Vancouver & Calgary

REACH US:
350 – 407, 2 Street SW, Calgary, AB T2P 2Y3, Canadá
Phone: (403) 290-1166 (Calgary)
(604) 227-2265 (Vancouver)
www.simpsonsearch.com
Established in 1994, Simpson & Associates Executive Search Inc. is a boutique executive search and recruitment firm providing premium search consulting services on a retainer basis to client organizations throughout Canada, the United States, and internationally. Our clients range from entrepreneurial, "start-up" ventures through to large, multinational organizations.
What differentiates our Firm?
Consultative, Hands-On Approach
We take a highly consultative and hands-on approach to our work for client organizations, with a particular emphasis on understanding their business objectives and strategy, the markets in which they operate, as well as the organizational culture the client company strives to create and foster. We draw upon our understanding of these factors in the development of a customized recruitment strategy to engage and identify candidates who possess the skills, experience, and personal attributes that align with the client environment, culture, and mandate. It is important to note that every aspect of a search engagement from start-to-finish is conducted by our Firm – we do not outsource any portion of the process including research and candidate reference verification.
Research-Based Methodology
Our Firm is known for the rigor of our research-based methodology and targeted approach to identifying and sourcing top candidates. This translates into a distinct and valuable strategic advantage for our clients particularly in a highly active and competitive business environment. This methodology also lends itself particularly well to unique search engagements for specialized roles and/or confidential assignments.
Direct Sourcing Capabilities
Our Firm has conducted over 1,200 search engagements across a wide array of industries and functional areas. While we are a generalist and multi-sector/industry search practice, we are conscious of how many clients we have in a given sector which allows for greater reach and sourcing capabilities. What that means for our clients is that we are not constrained by the inherent conflicts that other search firms have who work for many clients in the same sector.
We consider ourselves an extension of our client organization and are mindful of the fact that we are representing our client in the business community and candidate marketplace. We proactively market the client organization and role under recruitment to individuals who are not actively looking to make a career change therefore giving us better access to sources of talent who would otherwise be unaware of the opportunity.
Concrete Deliverables and Results
We are results-driven and our goal is to deliver tangible results to our clients with a successful placement. Over the course of 20 years in the executive search business, our Firm has developed an extensive network and database of candidates across Canada, the United States and internationally and are able to draw upon this vast pool of talent for every assignment we conduct. We also recognize that the candidate marketplace is continually changing and we believe it is important to supplement that solid foundation of candidate profiles with new research and networking for each and every search assignment.
Professional Integrity
We are conscious of establishing a relationship of trust, professional credibility, and confidentiality with our candidate community which results in candidates being more willing to work with our Firm to explore an opportunity. We have received regular and consistent feedback from both candidates and clients alike that our Firm has valued and respected their investment in the search process and they have been provided with regular communication and updates. From our Search Consultants and Research Associates to Administrative Support staff – we are consummate professionals in all of our interactions with both clients and candidates. We are just as diligent when bringing people onto our team as we are in conducting placements for our clients. It is critical to our success to hire individuals for our Firm who follow the same principles and hold the same values.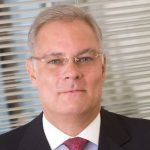 PETER JOHN S. MASON
Founding Partner and Director
Anglo-Brazilian, BA degree in Business Administration from the Pontificate Catholic University (PUC-Rio de Janeiro), with several professional specialization courses abroad. Worked for 24 years as a Banker in leading financial institutions in Brazil and in the USA. Served as Honorary Australian Consul for the State of Rio de Janeiro and began his career as a Human Resources Consultant in 1999. In addition to specializing in Executive Search, is actively involved in Assessment and Integrated Coaching projects.
Prior to joining the Consultancy business, Peter enjoyed a 24-year career in Financial Services, mostly in Brazil, initially with Banco Aymoré de Investimento S.A. (ABN-AMRO), Banco Bozano, Simonsen de Investimento S.A., Bank of America NT & SA, and lastly as Country Head at the Australia and New Zealand Banking Group (ANZ). In addition to the funds management area, he worked in mergers and acquisitions transactions, foreign debt restructurings, corporate loans, syndicated loans, formal/informal foreign debt conversions, project finance deals, capital markets issues and structured foreign trade financing transactions. At ANZ, he worked for three years in New York as the Country Manager, with responsibility for managing the group's business in Brazil.
Peter began his career as a Human Resources Consultant in 1999, when he joined Korn/Ferry International to head up the Financial Services practice (banks, insurance companies, private equity/venture capital funds, brokerage houses and clearing companies), As Senior Client Partner he also led projects in the Industrial, Mining, Pharmaceutical, Chemical/Petrochemical, Agribusiness, Retail, Energy, Metallurgy, Consulting Firms, law Firms, Media and Entertainment, Culture, Tourism/Travel and Real State Sectors, among others. In 2004, he received the Client Satisfaction Award – South America from Korn/Ferry International, for having reached the highest client satisfaction rate in that continent. He was also one of those responsible for introducing the Management Assessment practice in Brazil.
In early 2005, with three other Senior Consultants, he created Talent Solution. Peter Mason is certified in the LPA – Launch Pad Analysis executive assessment tool and in Integrated Coaching by the ICI – Integrated Coaching Institute.