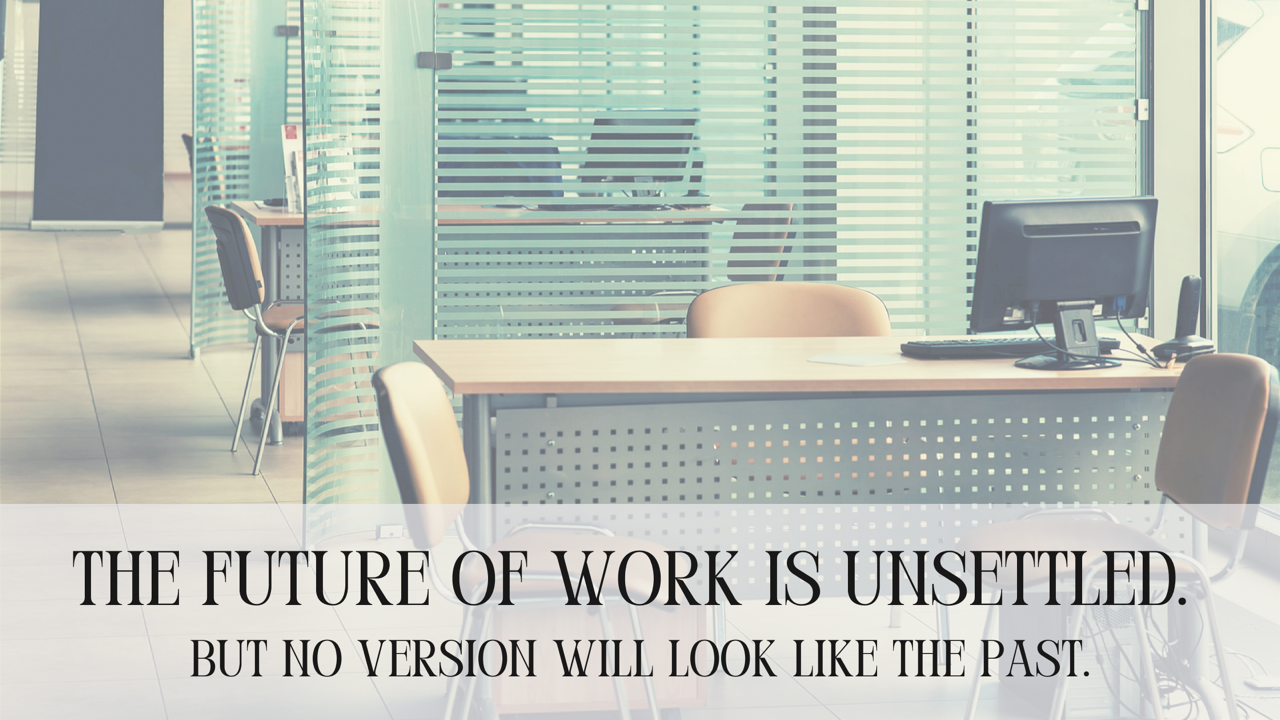 We are now nearing the three-year anniversary of when the pandemic crept in, then quickly overtook, over lives. But we are also at least eighteen months since the rollout of vaccines that immensely lessened the risk of serious illness. In theory, we then began to resume our lives. But even as a good number of people mostly went back to normal – let's define that as our 2019 routines – it's also clear that a lot has changed for the long term. Some of the changes we first made out of necessity and fear, we now embrace as a new lifestyle. The Great Resignation was not just a temporary moving house exercise. People left jobs, whole careers even, and permanently changed not only what they did for work, but how they did it and why it suited them. Now we face the question of what that looks like? Is it back to fully on-site? Fully remote? Hybrid model? Four-day work weeks? And if everyone adopts something different, how to organisations, their customers and their vendors work with each other?
Changes to work may have been a short-term response, but now they are a long-term reality.
There is a fair amount of discussion amongst executives suggesting that eventually, we're all going back to work, circa 2019 style. There is reporting that many employers 'secretly' want employees back in the office. That push began in 2019 when the UK government lifted work from home recommendations. However, the response by workers was clear. The Great Resignation was fueled in part by employers who refused to extend work-from-home arrangements. Workers responded with their feet leaving employers with huge vacancies (so much so, that retailers began asking over-50 workers to 'unretire'). Now it's 2023. We are no longer working from home due to an acute fear of widespread pandemic-related health crises. Certainly, those who are older or who have a pre-existing condition continue to take more caution than the general public. But the changes in how we work – and why we work – are no longer just about Covid-19; it is about a greater shift in mindset. And employers who continue to deny that this shift is more than temporary are risking losing talent.
Hybrid is the likely future. This is not to suggest that a fully remote situation is the path forward for most workers. There are benefits to being in a shared work environment with colleagues. A lot of corporate culture and knowhow is learned literally on the job. The way teams work together within any particular organisation is at least partly developed from in-person interactions. There are loads of other valid arguments for why people need to see each other in person. But there are equally a lot of ways that can be done on-site just a few days per week, which is why so many are pointing to hybrid work as the future. Why can't teams agree to be on-site two to three days a week and schedule meetings for those days? Why not have performance evaluations or client presentations conducted in office while days spent planning are remote? The arguments for in-person do not extend to a case for in-person, every day. That said, simply letting people work from home two days per week without also making more extensive and thoughtful decisions about how to manage and develop that kind of workforce doesn't work long term, in fact, a report said that 80 percent of people leaders reported that hybrid workers were exhausted by this arrangement.
The four-day work week might be next. Global brand Unilever recently announced a four-day work week trial, which might indicate another but related shift in what employees value. It's not the same thing as a five-day week that is partly remote, but the principle is the same – the way we work is changing. In fact, a recent survey showed that executives overwhelmingly were hearing that the four-day work week was one of the biggest requests of employees. But – only six percent of those leaders said they were willing to actually offer four-day work weeks. So, that might be a bit further off. Still, we are seeing that the boundaries of what work looks like are being tested.
Changes to how we work are new, not revolutionary.
We have made so-called revolutionary changes to the way we work again and again, we just forget they were radical at the time. At one time it was considered an incredibly progressive workers' rights argument to suggest that children should not be employed in factories. The concept of a two-day break from labour, called the 'week-end', developed in Northern England in the nineteenth century. Employers adapted, and the economy carried on.
During the winter of 2010, I attended a conference about the technological future of work – the idea of videoconferencing instead of in-person meetings and online collaborative workspaces that would connect remote teams. A couple of attendees in the back were snickering about how this just wasn't going to happen; they would never need these kinds of digital tools. Ten years later, we were forced to rely on those very capabilities that seemed fantastical back then. The future – accelerated in part by the pandemic – had arrived. The reality is that our beliefs about work evolve and we are going through a revisit of those beliefs now. Wherever we land, employers and workers will have to come together to find a solution. For economies to work, we need people to work. We all need each other.

Dr Robert Kovach
PSYCHOLOGY. LEADERS & TEAMS.