Alto Impacto Executive Search and Consulting
Perú, Lima

With offices in Chile and Peru, Alto Impacto is a firm managed by Senior Consultants, with a vast and solid experience in Executive Search, Executive Assessment, Coaching, Leadership, Organizational Culture and Effectiveness, acquired during many years of work in large local and multinational firms and global leaders in their fields and practices.
We represent world class leading firms providing scientific diagnostic tools for assessment, leadership potential identification & development, culture assessment & development, OD and strategic planning, such as Hogan Assessment Systems and Denison Consulting.
Both Alto Impacto Executive Search and Alto Impacto Consulting are part of Alto Impacto. Since our foundation in 1998, we support international and local companies from various industries in their processes of cultural and organizational transformation, executive search, optimization of recruitment and selection processes, as well as in identifying leaders and developing their skills and effectiveness.
At Alto Impacto, we always have two Senior Consultants execute a search assignment; this practice has proven to be effective and a competitive advantage in terms of higher quality, speed and accuracy in the execution of search projects. All of our Consultants have a deep knowledge of the different segments and sectors of the economy.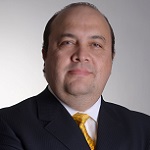 RODRIGO DEL CAMPO
Executive Director
For over 20 years, Rodrigo has worked with a broad range local and international firms in various industries throughout Latin America. At these companies, his performance has focused on generating superior business results through cultural transformation, large-scale change, leadership development, and building high performance executive teams.
Rodrigo's educational background is in Business Administration and has postgraduate studies in Biology of Cognition and Human Communications, as well as in Leadership of Organizational Transformations. Additionally, he holds multiple certifications in assessment and development of leaders, teams and organizations.
Rodrigo was Client Partner and Senior Client Partner at Korn/Ferry International in the Santiago, Chile office, working both in high-level executive search, as well as talent management and leadership development consulting.
Since December 2008, he has focused on the development of Alto Impacto, incorporating top-of-the-line scientific solutions available around the world to improve effectiveness and generate value to organizations, teams and leaders.
His experience in Executive Coaching includes working with CEOs and high-level executives of international companies such as BHP Billiton, Antofagasta Minerals, Brink's Chile, The Clorox Company, Glaxo SmithKline, Orica Mining Services, Codelco, Minera Los Pelambres, Movistar, Watt's, Hilti, Nokia and Rio Tinto, among others.
Rodrigo Del Campo is fluent in both English and Spanish.
ROCÍO DE LA PUENTE MC FARLANE
Senior Consultant
Rocío de la Puente Mc Farlane works with Alto Impacto since 2015. Her focus is in the design and implementation of scientific Human Resources solutions that allow clients achieve their optimum organizational effectiveness.
Rocio has more than 20 years of experience in the Human Resources field, having been in charge of the development and implementation of a wide array of programs for private companies and International development organizations, both locally and regionally.
Prior to working for Alto Impacto, Rocio worked as the Human Resources Officer for Latin America and the Caribbean for the International Finance Corporation (World Bank Group). In the seven-plus years she worked there, she implemented the different global corporate programs adapted to 14 countries in the region. Among these programs, she managed recruitment and selection process for Executives, as well as staff development processes, at a global level and programs such as performance evaluation, talent management and interregional rotation among others.
Before that, she worked as Human Resources Manager of BankBoston Peru, since the beginning of their operations in Lima.
In addition, Rocio holds International Certifications as a Life, Executive and Talent Potential Coach.